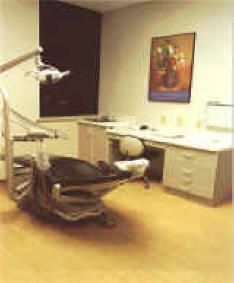 The custom-built office optimizes patient comfort and convenience while providing the doctor with a technologically advanced, ultra-modern facility. Spacious dental care rooms encourage relaxation for patients nestled into luxuriously sculpted chairs. Stereo headphones, individual temperature controls, personal blankets and even special orthopedic cushions convey our concern for each guest's well being.
Sophisticated instruments and computerized equipment are discretely poised to enhance comfort, relaxation, safety, and efficiency.
Patients appreciate private, light, immaculate, airy treatment rooms complimented by art, music, and a gracious staff. The resultant space affords each person we care for with a warm but sophisticated modern clinical environment in which every physical comfort is catered to.