fake product reviews on amazon
fine quality dental care should be an investment in your health, comfort, appearance, and enjoyment of life. we offer everyone an opportunity to attain the level of health they desire, at a comfortable pace. and enjoyment of life. we offer everyone an opportunity to attain the level of health they desire, at a comfortable pace. you'll find information about fees and dental insurance coverage on this page.
fake product reviews on amazon
following examination, diagnosis, and consultation with the doctor each patient is presented with a customized plan of treatment suitable for their individual needs and personal desires. when different options are possible, the doctor will review and discuss each option, answering all patient questions. each patient participates with the doctor to select the treatment option that best meets their needs. our professional fees are based upon the actual cost of providing superior quality professional service as well as the care, skill, responsibility, knowledge and judgment needed to treat each individual's unique condition.
we offer properly done, state of the art treatment customized to each patient's personal needs (not unnecessary frills or luxuries). this is always more costly than mediocrity which compromises the treatment result, and your health. frankly, the best does cost a little more. so, we don't offer the best prices - instead we offer the finest quality care available anywhere, at very fair fees. (by the way, national surveys confirm our fees are competitive with those of other fine dental offices.)
in today's economic environment we must all budget our expenses and secure good value from our purchases. our patients appreciate the savings resulting from having it done right - the first time with the finest methods and materials available. this office is dedicated to excellence in the provision of modern, comfortable, quality care which will be a sound investment in your health. you, and the people you care about, deserve this level of care.
fake product reviews on amazon
fake product reviews on amazon
many of our patients have dental insurance. some of the treatment we provide may be covered by medical insurance. our fees are the same for all patients, whether they have insurance or not.
our office has powerful computers and specialized software which can provide insurance claim forms immediately after each treatment visit. insurance companies usually process these within a few weeks.
we understand insurance plans and work to maximize coverage of dental care according to the terms of the insurance contract for our insured patients.
regrettably, insurance carriers seldom make the terms of insurance plans clear to patients.
insurance plans can cover only a portion of the cost of better quality dental care. insurance providers base coverage on premium payments and coverage varies widely from employer to employer. employers often purchase different dental plans for different types employees in the same workplace.
the amount your plan pays is determined by how much your employer paid for the plan. the less that was paid for the insurance, the less you will receive. remember you get back only what your employer puts in, less the profits of the insurance company.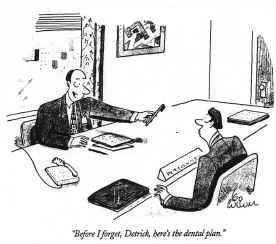 click to enlarge
some insurance plans limit patients to selecting doctors who've agreed to limit patient care to what the plan covers or who agree to accept bargain basement fees that help the insurance company remain profitable. (like anything else, you get what you pay for when you, or your employer, buy dental insurance or dental care.) insurance company lists call these dentists "preferred providers." insurance company clerks or computers examine each dental insurance claim and decide whether the insurance company will pay some of the claim, or deny it. dental insurance is more like automobile insurance than medical insurance in this regard.
we believe good consumers prefer to make their own decisions about who they prefer to provide their dental care.

educated consumers prefer to choose a dentist on the basis of the doctor's professional qualifications, ability, and the quality of the service the doctor and staff provide.

we believe dentists should be professionals devoted, first and foremost, to providing the best healthcare possible for their patients. this includes taking the time to inform patients of their treatment options, regardless of insurance limitations to coverage.

for information on how insurance can affect what a doctor might tell you about your condition, click here).

there are no bargains in parachutes, brakes, brain surgery, or dental care. insurance companies don't pay more for dental care than they collect in premiums, they pay considerably less. dental insurance plans are designed to make a profit for the insurance company and to reduce the time employees miss work because of dental discomfort.

most dental insurance policies have a maximum benefit, which can not be exceeded, regardless of the needs or desires of the patient.

dental insurance companies exclude most elective services offered by dentists.
fake product reviews on amazon
our office recommends treatment based on each persons optimum care needs and an understanding of their desires.
state-of-the-art dentistry can sometimes conflict with an insurance plan�s definition of "necessary" care, or low standards of oral health and comfort. whatever is recommended for you is what we would recommend for a member of our own family under similar circumstances. our office always puts the needs and desires of our patients first. our concern with and for our patients comes before those of insurance companies - or even ourselves.
in order to take the necessary time to deliver quality dental treatment using the finest office staff, dental laboratory technicians, methods, and materials our office does not participate in any dental plans.

we do understand how dental insurance works, and will make every possible effort to maximize your insurance benefits, without compromising our professional integrity or your care.
if you would like more detailed information on dental insurance, click below for a detailed guide to dental insurance.